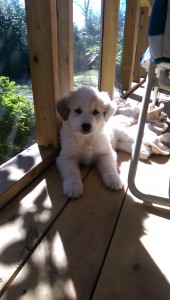 We've embarked on a new adventure somewhat by happenstance.  For awhile I have been considering a service dog for Cisco.  I had seen the use of service dogs for special needs kids here and there and I really liked the idea of the companionship and assistance of a dog in our life especially the more I've read about it.  Cisco loves animals.  He loves to hang with our kitties, watch the guinea pigs and ride horses for hippotherapy.  He recently started working with a therapy dog while doing PT and it has been a good motivator.
The wait for a trained service dog is on the order of two years.  I wasn't feeling we were quite ready but almost ready to start the application process given the wait time.  The program that we were considering was near by in Ohio and had no waitlist or age requirement, you just had to help raise fund for the organization before being assigned a dog for training.  They sounded like a committed organization doing amazing work to provide for special needs kids but I had some reservations.  The dogs are raised in a large kennel facility.  They do spend time away spending a semester with a college student socializing as a puppy and in basic training at a prison but the rest of there 18 months to two years of training seemed to be at this facility.  I was a bit uncertain about this and so was my Dad.  My Dad felt the best results would be from getting a puppy but I didn't see how I could handle raising a puppy right now and the success rates of getting a fully trained service dog after raising a puppy reported via facilities and trainers is like 20% especially among dogs not bred for service work.  It is demanding work.
I was on the verge of going ahead and applying for a dog when, during a phone conversation, my dad casually mentions he knew of a litter of Great Pyrenees Anatolian Shepard mixes looking for a home.  He regailed me with the stories of the Great Pyrenees he had before I was born (that had my same name, incidentally) and how he thought a Great Pyrenees would be a great fit for us. I said he could go ahead and investigate the puppy situation.  Before I knew it Grampa and his partner were getting us a girl puppy to train to be Cisco's mobility and multi-purpose service dog.  Grampa's partner, LL, felt so committed and excited to help that she insisted on helping Grampa raise the puppy the first 6 months taking care of the puppy's bills and taking her to Puppy Kinder so she would come to us potty trained, past needle sharp teeth and with a few commands behind her belt.  They made sure I was committed but how could I pass up this opportunity.  Admittedly, this is our experiment.  Great Pyrenees and Anatolian aren't often used for service dog work but Great Pyrenees are a favorite among therapy dogs.
The new dog's name is Nana.  This was suggested by LL because it is the dogs name in Peter Pan and we agreed to it as a family because Cisco liked it and could say it.  She is over 9 weeks old and has been living with Grampa and ML for two weeks.  We are assured she is brilliant, doing great in potty training, gets plenty of socialization and is making great progress with leash walking.  Her weak point at the moment seems to be mouthing people and pulling on clothes.  The handler of Cisco's therapy dog suggested using Bitter Apple spray directly in her mouth when she does it as this cannot be tolorated in a service dog.  We are hoping that will work.  Service dogs must be committed to their charge, taking direction, not barking unless to alert to his charges urgent needs and staying calm and unobtrusive in public.
The plan is for Grampa and LL to so graciously drive half way across the nation to bring Nana to us this summer as long as Nana continues to prove she is a good service dog candidate and she tests negative for hip displasia at 6 months old whe we can check for it.
Wish us all the best on this adventure.  We are causiously excited.  Thank you Grampa and LL!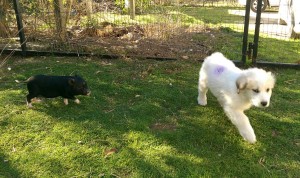 Nana Playing with her MiniPig Cousin