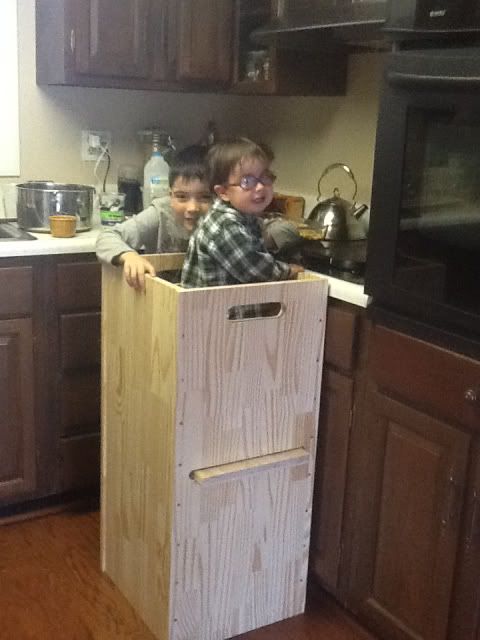 With a little idea searching on my part and the woodworking capabilities of my hubby, Cisco got an early 2nd birthday gift this weekend.  My wonderful husband made Cisco what I'll call a " Learning Pod" inspired by the popular Learning Tower and its European "cousin" the FunPod.  
Cisco has become increasingly interested in what we are doing in the kitchen and wanting us to hold him at our level while there.  I started putting him in his Keekaroo highchair (another great invention) by me in the kitchen but really felt he needed to be more a  part of the action.  I started to remember a friend that had a Learning Tower and it seemed perfect except it has a huge footprint that wouldn't work too well in my small kitchen and it also was very open.  The latter would be a benefit to an "average" developing child for the accessibility of crawling in and out but my little guy is just not strong or balanced enough for me to feel comfortable with him in something so open nor could he crawl in and out at this point.  Then I found the FunPod.  Perfect except the price tag so I was able to convince Dad to make it with Big Brother as a birthday gift.  It took them a day and a half plus about $80 (over 1/2 off a FunPod) to make and it is perfect.  He'll deny it if you ask him but my hubby is so handy!  
Cisco is loving his Learning Pod.  He has especially enjoyed access to the drawers so he can empty them.