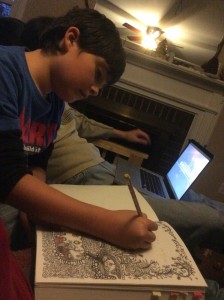 The fall was busy as usual.
Daily outings:
Monday – hippotherapy
Tuesday – speech therapy & Park Day
Wednesday – 4-H, Forest School and OT
Thursday – violin private class
Friday – Co-op
Saturday – group violin
Even with this busy schedule we managed to stay home until after lunch Monday – Thursday.  We tried a new scheduling and learning approach.  Cisco got one hour per day to do arts and crafts and reading time with Mommy (brother liked participating too). Big Brother then got an hour of my time so we could work on projects and reading together.
Big Brother tried his hand at having more freedom to control his learning.  He did Beast Academy for math, cursive practice, a Brave Writer beginner Writing class with mom, Sassafras Biology and geography.  He had a checklist he had to cover each week.  I also had bins for the main topics that he could choose activities from.  I got the idea from the Savvy Homeschool Moms Podcast.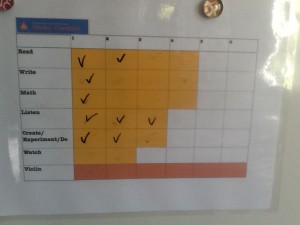 It worked great for awhile.  He had a great time.  Then a few appointments and distractions left him unmotivated and turned into arguments and decreased ability to finish.  It is one of the difficulties we have time and time again.  If I'm not fully engaged and continually motivating, he looses interest.  Then we took thanksgiving to new years off to focus on holiday crafting and holiday time off.
Big Brother is now trying "Homeschooling Boys Library Based Curriculum Journal." The jury is still out on this one.  Big Brother says he liked picking his own topics and books for this but we had trouble with motivation.  I'm hoping it goes better this coming week.
The holidays were spent at home.  Thanksgiving was hosted at our house with our two single guy friends joining us.  It was nice enough outside to enjoy sitting on the patio table while the turkey cooked in the smoker all day.  Christmas Eve was at home and Christmas Day we were with our dear friends we've spent Christmas with each Christmas for years.  We made crochet wash clothes, pictures, photo books and necklaces for gifts.  The boys enjoyed getting lots of gifts including a sturdy Melissa and Doug shopping cart for Cisco he used constantly for several days and Duplo, and Dr. Who LEGO and a Robotic Arm enjoyed by Big Brother.